Accolade: Leveraging Tech To Deliver Accessible Healthcare
Summary
Accolade is experiencing strong demand due to rising healthcare costs and employers seeking ways to reduce expenses.
The company's proprietary technology platform and health assistants provide personalized benefits and health support, leading to significant cost savings for customers.
Accolade's unique value proposition and robust technology platform position it well for future growth.
I view the stock as a buy and have an end-of-year price target of $18 on the stock.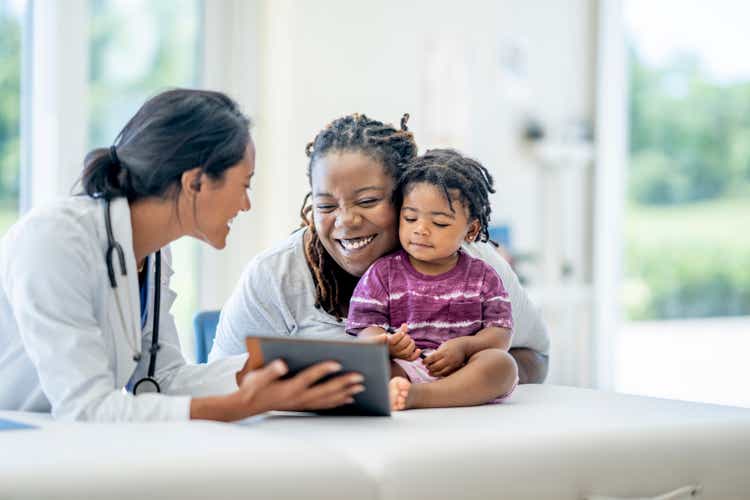 Thesis
Accolade, Inc. (NASDAQ:ACCD) is a fast-growing population health management solution provider in the US. The company helps its members navigate the healthcare system by addressing both cost and care delivery aspects and has a diverse team of health assistants who provide consultations, referrals to experts, and help members understand their copay and patient expenses. Accolade is known for saving its customers around 4-10% or more on medical expenses, boasting high retention rates, and having a highly scalable SAAS business model. With rising healthcare costs, self-insured employers are actively seeking ways to reduce expenses and improve employee satisfaction, putting Accolade's services in high demand. I view the stock as a buy and have an end-of-year price target of $18 on the stock.
Company Description
Accolade is a leading provider of benefits and health navigation and utilization software. Accolade's platform helps customers lower health costs and improve health outcomes for their employees. The platform acts as a single source for all of an employee's health and benefits information and options. In addition to offering its platform, the company provides a dedicated care team of Health Assistants and clinicians to answer any questions and promote value-based usage of employee healthcare and benefits. Heightened engagement with employees leads to greater health and benefit utilization, which in turn leads to lower healthcare costs for the customer. Accolade provides access to its platform and its capabilities through its flagship offering, Accolade Total Health and Benefits, which is sold to customers on a recurring per-member-per-month (PMPM) basis. Additional capabilities and functionality are also available through the Accolade Boost, Trusted Supplier Program, and Accolade COVID Response Care add-on offerings.
Q1 Review & Outlook
Accolade experienced a strong year-over-year growth in total revenue in Q1, which increased by 9.0%. This growth was mainly driven by the continued strength of both enterprise and consumer markets, along with significant growth in expert medical opinion services and the early recognition of performance guarantees. Accolade's pipeline showed year-over-year growth, with a majority of deals involving multiple products.
The rising concerns about increased cost trends in CY24 are driving demand among employers, which is expected to contribute to pipeline growth in Q2. ACCD's expert medical opinion services performed better than expected, with 30% growth in the quarter. The strength in this area is attributed to new customer acquisitions and cross-selling to existing customers. In my view, it suggests that the increased surgical volumes in the healthcare sector may lead to higher case rate volumes in Accolade's customer base, providing a path for further outperformance in FY24. Additionally, there is strong demand for primary care services related to GLP-1 drugs, which management believes will contribute to sustainable growth. The management has reiterated its targets for FY25, expressing confidence that changes in the cost structure will positively impact long-term profitability. This reduces the risk associated with FY25 targets and potentially opens up opportunities for exceeding expectations.
Robust Demand for Cost-Saving Healthcare Solutions
According to estimates, approximately one-half of the U.S. gets their health insurance through their employer, and the costs of health insurance are continuing to rise at a rate of approx. 6% per year. Depending on which source you use, the average deductible for individuals and families is also increasing. Since most of employers with more than 500 employees are self-insured these costs trends, and burdens being put on staff are a challenge. Hence, there is a strong demand for solutions that help employers manage and mitigate escalating healthcare costs of employees. Accolade is well-positioned to benefit from this situation, as the company has a proven track record of delivering annual cost savings ranging from 4% to 10%. Accolade can help companies improve their overall medical spend, while at the same time improving the overall member experience as they navigate practically all aspects of the healthcare ecosystem.
Accolade's unique value proposition lies in the combination of its proprietary technology platform and the expertise of its health assistants, which drive high levels of engagement. The company's technology platform, InView, provides actionable insights to health assistants and clinicians as they interact with members. InView, an AI engine and member CRM tool, consolidates and links various data points to provide a comprehensive view of each member. With InView, Accolade's health assistants can deliver personalized benefits, health support, and determine if further assistance from a clinician is required. This technology-enabled service allows Accolade to engage efficiently with an employer's entire member population, not just those with high-cost claims. Accolade consistently achieves annual engagement rates of over 50% among its member populations, leading to significant cost savings for its customers. A study by Aon analyzed six Accolade customers and found that member costs were lower compared to a control group. Furthermore, all six Accolade customers experienced cost reductions after implementing the platform.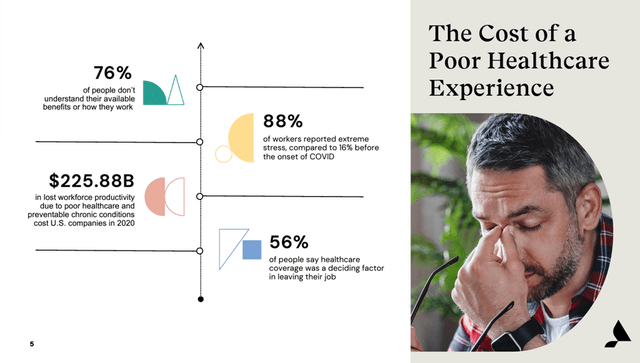 Trusted Partner Ecosystem Creating Unique Value Proposition
I see Accolade's trusted partner ecosystem (TPE) as a valuable aspect of the company, especially as the digital health ecosystem continues to evolve. In today's competitive landscape, organizations are seeking assistance to evaluate the increasing number of digital health solutions available and enhance its benefits offerings. Accolade has taken a strategic approach to its TPE, prioritizing quality over quantity by partnering with one or two leading vendors in each category. This approach has been well-received by customers who appreciate a streamlined procurement and implementation process. Likewise, the point solution partners benefit from improved distribution, increased buyer attention, and enhanced member awareness and utilization.
Accolade's commitment to its TPE is yielding positive results, as evidenced by the success of highlighted partners like Virta and Folx. Accolade customers are experiencing double-digit improvements in engagement and utilization compared to non-Accolade customers. These encouraging attachment rates and utilization rates are not only beneficial for the partner companies but also contribute to Accolade's discussions with clients. The management has observed that TPE discussions are now taking place with new customers, whereas previously, they were primarily focused on expanding services with existing customers. This expansion of TPE engagements is expected to drive growth for Accolade in the coming years, as it brings margin-accretive opportunities to the company's portfolio.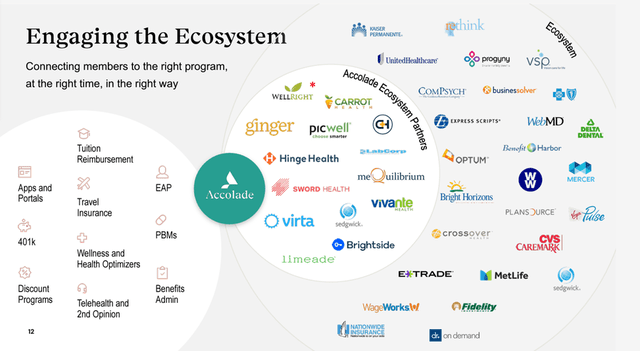 Valuation
Since ACCD is still very much into its growth phase and not yet profitable, continuing to post operating losses, I have used an EV/Sales valuation method to value the company. I believe this method allows for more consistent comparisons across high-growth companies. SaaS companies like Accolade have historically traded at 2-12x forward-year revenue multiples, but certain companies have traded above the high end of the range, most recently due to growth becoming more durable at higher levels of scale. I believe Accolade's targeted ~20% top-line growth appears achievable as a business that offers high-touch services that carry a ~50% gross margin. While the macro environment remains volatile, I am positive on ACCD's commentary related to the demand environment and the longer-term path towards margin-accretive rev. streams, which in my view, could be bolstered in the interim by cross-sell of margin accretive TPE apps. As such, I remain bullish on the upside opportunity, given my confidence that ACCD can hit its FY25 targets. During the past 6 years, Accolade has traded at a median EV/Sales multiple of 4.32x. The company stock is trading at an EV/Sales multiple of 2.7x, and I expect the multiple to re-rate upwards as the management continues to deliver on targets. My price target of $18 is derived from a forward EV/Sales multiple of 3x applied to the FY24 revenue estimate of $494 million. I believe a higher multiple is warranted given Accolade's large market opportunity, ability to accelerate revenue growth and expand margins. As such I believe ACCD should support a valuation towards the high end of the company's historical range.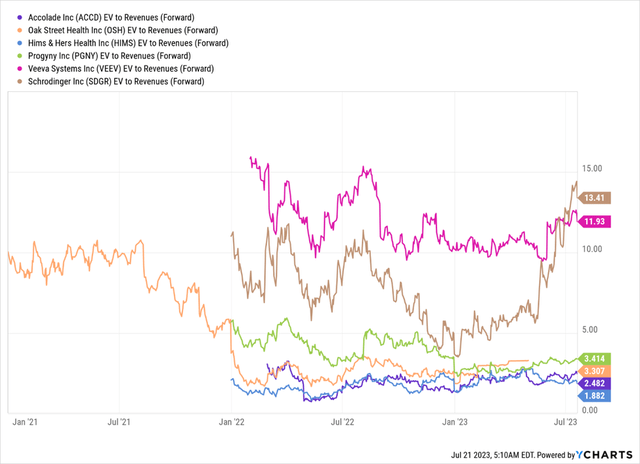 Risks to Target
Accolade competes in the highly fragmented and competitive benefit and healthcare navigation market with players like UnitedHealth Group Incorporated (UNH), Cigna Health, Quantum Health, and Castlight. The competition is increasing in ACCD's target market, with competitors offering competitive pricing. ACCD's competitors generally include large health plans, traditional navigation companies, and newer, digital -health navigation companies. My view is that large health plans do not have the depth of services that Accolade does, and there typically is not a "relationship" built with a health assistant or health coach at plans. Accolade wants to serve the members and work with them on their health journey. Plans usually care about each claim and transaction, and members are typically treated like "numbers." I generally like the scale that Accolade has, the technology platform seems very robust, leading to my positive stance on ACCD. However, the increasing competition presents risks such as customer churn, pressure on pricing during renewals, and a potential decrease in profit margins. Accolade must effectively showcase the unique value and return on investment of its offerings to mitigate these risks. Moreover, the business is fairly young and has not yet reached adjusted EBITDA break-even. Furthermore, cash-flow-from operations has been consistently negative for years. Over time, Accolade will need to grow revenue and earnings in order to become cash flow positive.
Conclusion
Accolade is a provider of technology-driven services that combines its proprietary platform with health assistants to offer enhanced member benefits engagement and cost reduction in the healthcare sector. The company's unique advantage lies in its AI-driven platform that combines technology and health assistants to deliver personalized engagement and cost savings for members. Accolade differentiates itself through a powerful combination of its proprietary technology platform and the expertise of its health assistants. I view the stock as a buy, and my end-of-year $18 price target is derived from a projected enterprise value equal to 3x to the FY24 revenue estimate of $494 million.