Aurora Cannabis: Growing Orchids, Vegetables, And New Strains Of Cannabis
Summary
Federal legalization of Cannabis in the US and Europe has not happened, leaving the industry with enormous over-capacity.
Cannabis companies are being forced to change plans, diversify and cut costs.
Aurora Cannabis has undergone a business restructuring plan, focusing on improving the cannabis business, diversifying into non-cannabis crops, and repurposing excess production facilities.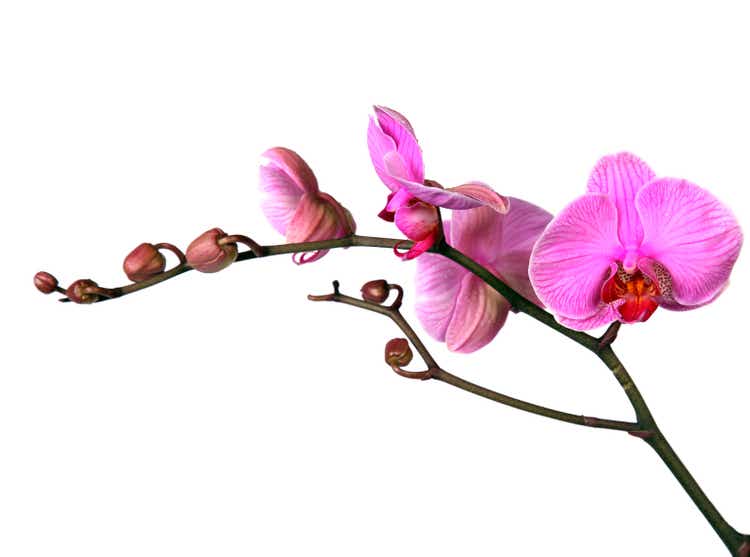 Aurora Cannabis (NASDAQ:ACB) has changed its management and strategy, diversified into new markets, and begun to develop its own strains of Cannabis plants. The new markets are unproven, and I am not convinced they will solve the over-capacity issue that plagues Aurora. The Seeking Alpha Quant rating is currently a buy, but the same page has Wallstreet forecasting a price target below its current value. Aurora shares have been trading below $1 recently, but I still cannot find a reason to invest.
The cannabis sector showed enormous growth when it arrived in 2019, fueled by the belief that the US was close to the federal legalization of Cannabis for recreational use and that legalization would drive near-exponential growth of legal cannabis sales to replace the illegal trade.
It never happened, and with a similar story playing out in Europe, the cannabis companies had to face a hard reality. Collectively, they had built enormous indoor growing facilities and spent money developing brands and new cannabis products; share prices collapsed when it became clear that the promised revenue was still over the horizon.
In the last month, Cannabis stocks have seen a price rebound; some companies are up more than 200%, and one or two are now in positive territory for the year.
Federal legalization appears no closer in the US or Europe. As a result, If I am going to invest, I need to find a company on the way to developing a profitable business that is not dependent on legalizing recreational Cannabis.
I want an answer to two questions:
How have they managed the oversupply situation?
What is the business development plan going forward?
Cannabis and Hydrogen were the first two sectors I invested in using my Disruptive Analysis investing strategy. They enabled me to improve the system immensely and turn it into one from which I can now make a living. The plan says it is time to look again at the cannabis sector, so this might be the first in a series of articles.
The Table below shows the leaders in the sector, highlighting some of the companies that have become of interest. Canopy Growth Corp. (CGC) and Columbia Care Inc. (OTCQX:CCHWF) show more than a 200% monthly share price increase. Four companies have positive net income, and three have enough money to pay off their current liabilities in cash.
The Strategies
I follow these 17 companies; however, I have 42 cannabis companies in my database.
They seem to have adopted one or more of the following strategies.
Mothball production facilities and wait for legalization
Sell off excess production facilities or close them and continue on a smaller scale.
Set up separate operations in each US state that legalizes Cannabis without cross-state movement to avoid federal issues.
Re-purpose the extra production facilities and grow something other than Cannabis.
Diversify into different, but sometimes related, industries.
All the Cannabis businesses I follow are changing, some far more than others. The strategic moves they are making are likely to determine their success.
Aurora Cannabis (ACB)
In July 2016, Aurora shares were at $3.55; 2 years later, they hit their all-time high above $149, an increase of 4,870%. In August this year, the stock had fallen to $0.42. In the Cannabis industry, this is not an unfamiliar story. Aurora hit $1 last week in a sharp move higher that might be the start of a more sustainable bull run.
Aurora began when its three founders invested $5 million and established a production facility in 2006. They received their first Canadian license in 2014, making it the first grower to obtain a Canadian federal permit.
The founders were Cannabis believers; they thought all Western countries were about to legalize marijuana and consequently initiated an accelerated path to scale. By 2019, Aurora had closed 17 strategic acquisitions, was operating in 25 countries, and had 15 growing facilities with a total cannabis production capacity of 564,035 Kg per year (2019 FY management discussions). They were only one of the estimated 45 companies building capacity. The total consumption in Canada during 2020 was 238,000 Kg; the whole thing was out of control.
The FY 2019 report had the following image showing its production facilities.
Aurora was approaching insolvency by the end of 2019, and they had to increase their common stock by a staggering 1,191%. Things had to change.
Out with the Old, in with the new
The 2020 Annual report announced a business restructuring plan (P8). It included the resignation of the business founders, a 30% reduction in staff, and the closure of 6 production facilities.
Properties in Exeter and Jamaica were sold, and Aurora began to divest some of the 17 acquisitions it had made, selling its shares in Alcanna, ALPS, Aurora Hemp, and EnWave.
The massive Aurora Sun facility was put on hold (it was already built, just not commissioned), and the building of a second Aurora Sky site in Denmark was halted. Aurora raised $20 million from the sale of former facilities.
This restructuring continued into 2021 with phases 2 and 3 of the restructuring plans announced.
The FY 2021 Management discussion reported the following progress: SG&A was reduced by $100 million in FY 2021, Capex was reduced from $100 million per quarter to $11 million per quarter, and guidance was given for $60-$80 million of further cost reduction in the following 12 months giving a total annualized expense reduction of $300 million since the new management took over.
The new Aurora
The vision can be distilled into two concepts: improving the cannabis business and diversifying into non-cannabis crops.
Improving The Cannabis Business
In 2021, a Science and Innovation group was set up to develop new strains of Cannabis and more productive cultivars. The group's goal is improved yields and higher concentrates of active compounds.
Aurora has developed proprietary cannabis strains that might give it a competitive advantage. The new plants have higher THC percentages (the active ingredient) of up to 30% And double the productivity of legacy strains.
The high margin Medical Cannabis market continues to grow, especially in Europe, where it is gaining increased acceptance in Germany and the UK. Aurora was the first company to get approval from Canada to grow medical Cannabis; they have remained a market leader since then and have developed an international business to supply medical Cannabis. The company's restructuring means European production facilities closed, and they now supply Europe from facilities in Canada.
R&D
The ongoing genetic and breeding research delivered ten new cultivars in 2023. Two of these were also sold in Europe, offering market-leading performance with THC of 28.8% average for the Sourdough cultivar and over 30% for the San Rafael brand. These figures are ahead of the competition, and Aurora is committed to continuing to improve and release new strains in the future. (Q2 2023 earnings)
The new cultivars are also optimized to deliver improved yields. The two mentioned above return 50% more product than the legacy cultivars.
In the Q2 2023 earnings call, the CEO remarked that Aurora remains the number 1 supplier in the Canadian medical market. It remains a highly lucrative segment to sell into, with margins above 60% and revenue holding firm. International medical sales grew 70% YoY as more countries legalized the medical use of Cannabis and chose not to legalize recreational use. Aurora's market-leading position in Medical Cannabis plays well in the current situation; they have well-known, established medical brands approved for use in many countries. If this trend of increasing authorization of medical Cannabis continues, I expect Aurora's overall margins to increase as this high-margin section increases its revenue.
Adult Use Cannabis
A comparatively low-margin area with limited growth potential unless a significant change to regulation occurs in the US and Europe. Aurora continues to invest in this area and acquired Thrive for $38 million in March 2022; the Thrive team will be responsible for the Aurora recreational cannabis portfolio of products and will focus on inventive premium products.
The Canadian adult-use market requires significant and ongoing innovation. Aurora stated (P4 FY2023) that a new product delivers 80% of its lifetime revenue in the first six months.
The R&D activities of Aurora are delivering the critical chemical makeup that adult-use customers require high THC and terpene percentages, plus distinctive taste profiles with improved unit costs. Thrive will attempt to turn this into a profitable operation.
Diversification
In 2022, Aurora acquired 50.1% of Bevo Agtech a market-leading vegetable and potted plant propagation company. Paying CA$45 million (possibly another $12 million in performance earnouts)
In the initial rush to scale, Aurora built some astonishingly large facilities.
Aurora tried to sell Sky and Sun its two biggest facilities when the dream faded but could not.
The new management will try re-purposing these facilities with Bevo, Bevo has bought the Sky facility.
Bevo and Orchids
The CEO said in a September 2022 call that Bevo will be re-purposing the Aurora Sky facility for orchid cultivation
The Sky facility is 800,000 sq ft of indoor growing space. It will be converted for "minimal cost" to produce orchids.
North America is the world's largest orchid market, which is expected to grow with a CAGR of 5%. The demand is driven by the cosmetics industry, which uses orchids in an extensive range of products.
It is a large industry with no significant players; the most prominent US supplier is Sunbulb, which operates the better-gro website in Florida. They have a turnover of around $60 million and are significantly larger than the next six suppliers. The industry is fragmented, with more than 250 small suppliers in the US. A big market with many small-scale suppliers appears to be an excellent target market for Aurora. The Sky facility's scale, combined with the Bevo team's experience, gives this operation a chance of success.
Bevo results were reported for the first time as a segment of Plant Propagation (FY 2023), reporting a revenue of $10.8 million. It is a seasonal market and sells more in the winter and spring. 36% margin was reported for Q3, but Aurora guided to only 15% in other seasons. The segment delivered an adjusted growth profit of $5.
In the latest earnings call, the CEO said
And now Aurora Sun. With some growth capital, which will be fully funded from a committed bank facility, there's 1.6 million square foot greenhouse in Southern Alberta will greatly expand the reach of Bevo,
We had previously been told that Aurora Sun had been sold, then that the finances on the deal had fallen through, and now it is going to Bevo. It is an interesting move that will give Bevo an enormous facility to grow Orchids. Is it too big? With Aurora Sky and Aurora Sun as growing facilities, Bevo is huge.
Financials
Aurora, like other cannabis companies, is predominantly owned by the general public, who have 85% of the share capital. Those shareholders have been significantly diluted in the last 12 months, with total shares increasing by 33%.
Debt to equity is 35%, and total cash is marginally higher than total debt.
Revenue is relatively stable; however, net income has dramatically improved since 2020, when they lost nearly three and a half billion Canadian dollars.
The 8 Wall Street analysts that cover Aurora reduced their average forecast to CA$0.96 in September, a 27% cut. The cut was primarily driven by the negative free cash flow of CA$164 million reported in the Q1 2024 results on August 10. Aurora has less than one year of cash on its balance sheet, so further significant dilution is possible.
Valuation
Aurora has more cash than debt and likely has enough cash to sustain operations for the next three years. It has cut costs dramatically and plans to diversify its products. The company's growth appears to have flatlined; the image below shows how some key growth trends have stabilized close to zero.
I am not convinced that the diversification strategy can buck this trend; the Orchid idea is unproven and means they keep the large Sun and Sky facilities rather than offloading them.
The adult-use market will likely remain confined to Canada, a relatively low-margin, highly competitive industry.
The medical Cannabis revenue is stable but has not been growing significantly.
SimplyWall.st suggests that Wallstreet agrees with my concept of near-zero growth. They forecast a near-flat growth for EPS out to 2026
Without a clear path to earnings growth, it is difficult to see the share price accumulating in value in the near term.
Conclusion
The new management at Aurora has made excellent progress in cost-cutting and has set out a plan for the future. They have cut capacity to be more aligned with their sales and have devised an inventive way of using some of that excess capacity with the purchase of Bevo.
The investment in R&D appears to be paying off with reduced costs of production and a more attractive product to the adult-use market.
However, many problems remain; they remain cash flow negative and continue to chase the low-margin adult-use market.
The Bevo acquisition added a profitable business to the group. It enabled the Aurora Sky facility to be re-purposed and potentially the enormous Aurora Sun facility if Bevo can sell that many orchids.
I cannot find a reason to buy or sell Aurora, so I give it a hold rating with a negative outlook. I will watch the development of the Bevo acquisition and the orchid production plans with interest.
Editor's Note: This article covers one or more microcap stocks. Please be aware of the risks associated with these stocks.