Ambev Q3 Earnings: Insufficient To Alter Bearish Outlook
Summary
Ambev reported a robust 24.9% YoY growth in consolidated net profit to R$4.015 billion in Q3 2023.
Despite a 1.3% decline in net revenue, organic growth was strong at 19.3%, with adjusted EBITDA at R$6.584 billion.
Ongoing operational challenges in Brazil, stemming from insufficient logistics infrastructure, impact Ambev's efficiency and market reach.
Ambev's valuation appears elevated, signaling potential overvaluation based on discounted cash flow (DCF) models.
Bearish thesis on Ambev reflects perceived overvaluation, low growth concerns, potential tax changes in Brazil, and uncertainties in Argentina.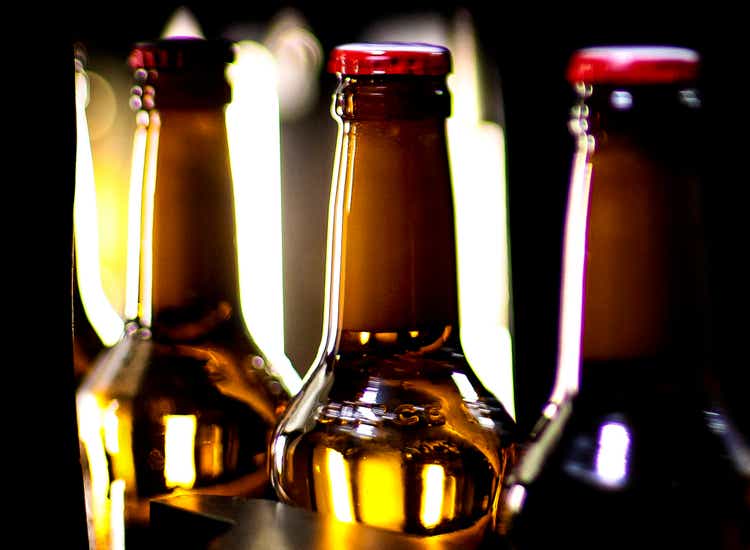 In my previous article on Ambev S.A. (NYSE:ABEV), I outlined a bearish thesis primarily rooted in what I perceive as an unappealing valuation that doesn't align with the company's growth potential.
Despite Ambev's recent recovery in profitability attributed to lower commodity prices, notably evident in its third-quarter results, the company grapples with ongoing operational challenges linked to Brazil's insufficient logistics infrastructure. This hinders its efficiency and market reach.
Moreover, the industry's low barriers to entry have led to heightened competition. The investment thesis for Ambev remains clouded by concerns regarding low growth, potential tax changes in Brazil, and uncertainties in Argentina, fostering an overall sense of skepticism.
Considering the valuation, which I believe does not reflect the company's long-term prospects, and dividends that, despite offering a reasonable yield, are not compelling at the current valuation, my stance remains underperformance for Ambev.
Ambev's 3Q23 Earnings Results
The Brazilian beverage company reported a consolidated net profit of R$4.015 billion in the third quarter of 2023, reflecting robust growth of 24.9% compared to last year. Additionally, the company disclosed an adjusted net profit of R$4.038 billion, marking a 25.1% increase year-over-year.
Adjusted EBITDA (earnings before interest, taxes, depreciation, and amortization) reached R$6.584 billion, demonstrating a 17.6% growth compared to the previous year in the reported concept and an impressive 43.7% surge in the organic concept. This marks the seventh consecutive quarter of growth, outpacing inflation since the first quarter of 2021.
Despite a 1.3% decline in net revenue totaling R$20.317 billion between July and September, as reported, the organic concept saw a robust 19.3% increase, marking the 13th consecutive quarter of double-digit growth. The company attributes this strong performance to a 21.7% annual growth in net revenue per hectoliter (NR/hl).
The results are attributed to a combination of resilient net revenue performance, notwithstanding a 2.0% drop in volume. Favorable exchange rates and commodity winds, particularly in aluminum, contributed to cost efficiencies. Additionally, improved distribution and administrative expense management played a role.
In Brazil, despite nearly stable volume (-0.1%), a 1.1% yearly decline in beer performance offset by a 2.8% annual growth in the non-alcoholic beverages (NAB) segment resulted in a 36% higher EBITDA than the previous year. The decline in beer performance is linked to an increase in average prices, potentially impacting market share, especially against competitors like Heineken N.V. (OTCQX:HEINY), which could pose challenges for future growth.
Internationally, positive performance in Central America and the Caribbean ('CAC'), with a growth of 13.6% year-over-year, was overshadowed by declines in Latin America South ('LAS') of 9.4% YoY and Canada declining 13.1% YoY, primarily due to industry-wide volume reductions.
Looking ahead, Ambev is confident about its fourth-quarter performance, which is historically critical due to the arrival of summer in South America. The company aims to deliver consistent and continuous improvements in growth and profitability, projecting consolidated organic performance of adjusted EBITDA to surpass the 17.1% growth achieved in 2022. Additionally, Ambev anticipates expanding gross margin and adjusted EBITDA margin.
The Risks Impacting Ambev
Moody's has reaffirmed Ambev's Baa3 rating, maintaining a stable outlook. The agency highlights that the brewery's rating is supported by its substantial size, being one of the largest globally, and its leadership position in key markets like Brazil and Canada. Additionally, Moody's acknowledges Ambev's extensive brand portfolio.
The agency notes that Ambev has limited reliance on the local banking system for financing, and its significance to the parent company, Anheuser-Busch InBev (BUD), helps mitigate its ties to the Brazilian economy.
However, Moody's points out negative factors, including the impact of volatile and commodity-like input costs. Ambev's use of hedging strategies to safeguard margins and consumer concerns about the health implications of sugar and alcohol consumption are also highlighted. These concerns drive increased demand for new beverage types and healthier food options.
Moreover, Moody mentions challenges posed by the current environment of low economic growth and risks related to potential tax changes in Brazil, such as the introduction of VAT (Value Added Tax). a type of indirect tax that is applied to the value-added to a product or service at each stage of the production and distribution chain, and the possible cessation of interest on equity (JCP). Risks in Argentina's economy contribute to an overall sense of skepticism.
The market has potentially priced in the favorable cost environment for the Brazilian brewery, and increased competition from Heineken poses a potential disadvantage. In the third quarter, Ambev reportedly ramped up production of Amstel, an essential promotional beer directly competing with several Ambev brands.
On a positive note, a survey commissioned by Bank of America, conducted with 1,000 consumers in Brazil, indicates that since May, Ambev has gained 130 basis points in consumer preference. Heineken lost 20 basis points in the same period, and Petrópolis lost 90 points.
This comprehensive evaluation by Moody's provides a nuanced perspective on Ambev's rating, considering both strengths and challenges in the company's operating environment.
Dividends and Valuation
When contemplating the consensus estimate of a 1% decline in earnings per share ('EPS') for Ambev this year, the company is anticipated to achieve an annual net profit of approximately $2,706.0 million. Given the expectation that Ambev will distribute 78% of its profits this year, this translates to an annual dividend per share of 0.13 cents, considering the total outstanding shares. This suggests a dividend yield of 4.9%, which is reasonably favorable.
However, in my perspective, Ambev may not be an ideal choice as a compelling dividend income stock. Assuming a return on investment ('ROI') target of 5%, this would imply a share price of $2.68 for Ambev, indicating a downside of about 3% from the share price recorded on November 22nd.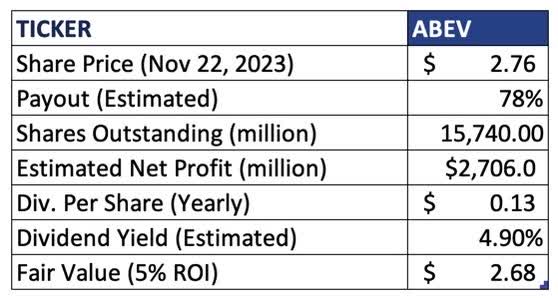 Upon conducting a discounted free cash flow ('DCF') analysis and projecting data up to 2027 with consensus estimates from S&P Global Intelligence, my enthusiasm for Ambev shares diminishes. Considering a weighted average cost of capital ('WACC') of 12%, the implied price for Ambev shares in the DCF model would be $1.62. This indicates a downside of approximately 40% from the current share price.
The Bottom Line
Ambev's third-quarter results, while positive, are considered to be of suboptimal quality. The notable highlights were in the Cerveja Brasil and CAC segments. The former exhibited growth in net revenue per hectoliter (ROL/hl) above inflation, coupled with a substantial expansion in the EBITDA margin. The latter segment saw a significant positive impact from improved performance in the Dominican Republic.
Although profitability in Brazil demonstrated resilience, driven by improvements in general and administrative expenses and gross margin, a noteworthy portion of the positive outcome was attributed to accounting adjustments related to hyperinflation in Argentina.
Despite the presentation of solid headline figures, there is a belief that Ambev's third-quarter 2023 results may only lead to minimal adjustments in expectations for the years 2024-2025.
The investment thesis for Ambev continues to be clouded by concerns surrounding low growth, potential tax changes in Brazil, and uncertainties in Argentina, contributing to an overall sense of skepticism.
From a valuation standpoint, Ambev seems to be trading at elevated multiples, suggesting overvaluation based on my discounted cash flow ('DCF') model. The company's dividends are also perceived as unconvincing when evaluated against its current share price. Therefore, I maintain an underperform rating for Ambev despite some positive surprises in its Q3 performance.
Editor's Note: This article discusses one or more securities that do not trade on a major U.S. exchange. Please be aware of the risks associated with these stocks.