AutoZone: Why A Dividend Could Be In Its Future
Summary
AutoZone, Inc. has aggressively been buying back its shares, rewarding shareholders in the process.
Besides selling auto parts and diagnostic software, the company also leases some of its properties.
AutoZone has only conducted two stock splits since going public, and one could be in its future as the company has bought back most of its shares.
AutoZone has posted impressive growth in its financials and can support paying a dividend, which is something that could attract more investors.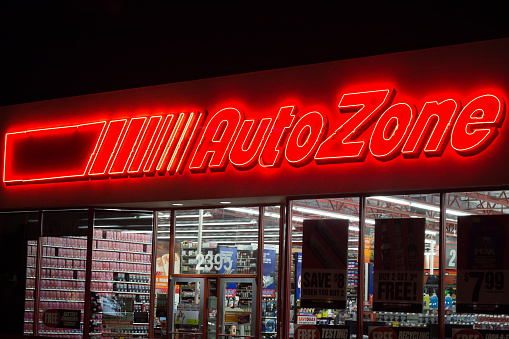 Introduction
AutoZone, Inc. (NYSE:AZO) is probably one of the most popular/unpopular brands in the world. I say that because every single person who owns or has owned a car has probably spent money in their stores at some point in their life. And will continue to do so for years to come. There's usually one in every neighborhood, and while we probably pass by them every day, I don't think many people think about the stock, leading to it being overlooked. I actually live about 50 yards from one and thought about them when my car notified me that I needed to replace my air filter.
I told myself I would go to the AutoZone next door and get a replacement filter to put into my car. Which I still need to do, but it did prompt me to do some research on the auto parts retailer. I looked into the stock a while back, but I'll admit it's been quite some time. In my research, I was quite impressed with the company and seemed like investors are, too. It's probably the reason why the stock normally trades at a high valuation. The business is firing on all cylinders, so let me tell you why AZO could be a dividend investor's dream stock in the future.
Business Model
Most of us know AutoZone as a brick-and-mortar business. They retail and distribute automotive replacement parts and accessories. The company was founded in 1979 and has stores in all 50 states, Mexico, Puerto Rico, and Brazil. If you own a vehicle you have or will most likely spend money in their stores. Whether it's for a replacement part that your automobile needs, or an accessory you want for that new car you just bought.
They're the World's leading auto parts retailer and distributor and many of their services are free of charge. They perform battery testing & charging, diagnostic testing, and they also have a Loan-A-Tool program where you can leave a deposit to borrow a tool, use it for up to 90 days, and get a full refund after.
Unbeknownst to many, they are more than just a brick-and-mortar business. AZO also sells automotive diagnostic software, and many of its stores have a commercial sales program that provides credit and prompt delivery of parts to local, regional, & national repair garages, dealers, service stations, and public sector accounts.
Is AutoZone an Auto Parts Retailer or REIT?
Although the company leases some of its stores from REITs like Agree Realty (ADC), the company also offers some of their retail locations for sale or sublease. Furthermore, they conduct ground leases, similar to ADC, which are available for sale in some of their business locations. These are also great additions for steady income as ground leases typically have longer WALTs than your typical lease, usually upwards of 50 to 100 years. All of AZO's properties are subject to a restriction prohibiting the property from being used in the sale and/or advertising of auto parts & accessories for at least 21 years.
Financial overview
For a company to even consider paying a dividend, the most important question is, "Can they support a dividend with their cash flows?" In short, is the company financially healthy enough to support this? The company went public on the New York Stock Exchange in 1991. Since then they have been quietly growing and expanding its footprint. This expansion also grew its financials. Since 2012, revenue, earnings, and FCF have all more than doubled. Revenue grew by 102% from $8.6 billion to $17.45 billion while earnings & revenue grew more than 167% and 130% respectively.
Who would expect this kind of growth from an auto parts retailer & distributor? Especially one that doesn't have lines out the door like your neighborhood Starbucks (SBUX). One reason for this kind of growth is AZO isn't susceptible to economic downturns like other businesses. No matter the state of the economy, people will need parts for their automobiles. It's an integral part of our everyday lives. When you think about it, if stores like AutoZone or its peers were to shut down, our everyday lives would be greatly impacted.
Aggressive Buybacks
Another reason for this impressive growth are the aggressive buybacks the company has been doing over the years. In the last decade, AZO bought back a large amount of its shares outstanding and 100% since 1998. Because of this, it has driven EPS higher. In the last decade, earnings grew a whopping 317%, from $31 to $132. Many investors prefer buybacks over dividends as this increases earnings over time which has been apparent for AZO.
Buying back shares gives shareholders more ownership as less shares are taken off the market by the company. This also may be a reason that more than 96% of the stock is owned by institutions. According to SimplyWallStreet, large institutions such as Vanguard (VOO), BlackRock (BLK), and JPMorgan (JPM) all have sizable positions in AZO currently, with Vanguard being the largest at 10%.
The stock has bought back shares every single year over the last decade and this would make it a perfect dividend stock in the future. In 2023 alone the company bought back $1 billion in shares and have just over $1.8 billion remaining under the current program. Obviously declaring a dividend is up to the company's management and having less shares outstanding means less capital required to pay out in dividends. And with its growing financials, and recession resistant business model, AZO could easily support paying a dividend in my opinion.
And unlike popular stocks like Amazon (AMZN) and Tesla (TSLA), AZO doesn't have a rich stock split history, the reason being their buybacks. Since going public, AZO has only conducted two splits, with the last one being in 1994. And with management aggressively buying shares back, the auto retailer could be ripe for one in the near future as shares outstanding continue to decrease. As investors may know, stock splits are one way of implementing a dividend, and this could be one way to making the stock more attractive for investors looking to start a position. I can't predict the future for the company, but just food for thought.
Growth Ahead
By now it should be apparent to you that AutoZone is a growth machine. And that growth continued in their latest earnings earlier this month. The company posted total sales growth of 7% for the fiscal year while earnings per share increased 12.9% over the same period. Domestic store sales also increased 3.1% and commercial sales were up 8.7% for the year as well. And management stated that they expect to continue this growth going forward.
One way the company expects to continue this is the potential growth in the international space. With only 12% of their total stores based outside of the U.S., the auto retailer continues to focus on this growth initiative. Additionally, in 2023 they opened 27 new stores in Mexico for a total of 740, and 17 new stores in Brazil bringing the total to 100.
Additionally, Brazil and Mexico are the top 2 leading car manufacturers in Latin America and eliminated tariffs on heavy vehicle trade earlier this year. Mexico's main export to Brazil is auto parts and in 2022, this reached $4.5 billion. With both of these also being two of the top 10 most populous countries in the world, AZO has plenty of growth ahead in the coming years.
Furthermore, the company also plans to open more than 200 new stores annually by 2028. And over the next three years the company is expected to post some impressive growth. Revenue, earnings, and cash flow are all expected to increase by double-digits with revenue growing more than 18% from $17.5 billion to $20.6 billion by 2026. Earnings are expected to grow slower at 13.6%, while FCF is expected to grow from $2.1 billion to $3.06 billion, or roughly 46% in the next three years.
Valuation
As previously mentioned, AutoZone is a stock you don't give much thought to, even though we pass by them almost every day. And have most likely stepped foot in one of their stores and spent our hard earned money. But the stock has been a cash generating machine who has rewarded its shareholders over the years. And that's apparent by their price & total returns vs. the S&P. Over the last month while the market has been experiencing a lot of volatility due to high interest rates and increased talks of a recession, AZO has continued to outperform the market.
This is due to the recession-resistant business model. And although the stock trades closer to its 52-week high, I wouldn't be surprised to see this stock continue trending higher. If we do go into a recession, investors will look for safe haven stocks such as AZO while they wait to see the FED's decision on interest rates. Since the flash crash in 2020, AZO has continue its climb from $844 to its current price of $2,580 at the time of writing.
The stock currently trades at a P/E of almost 19x, above its 5-year average of 16.5x. This is in comparison to its peer O'Reilly Automotive (ORLY) who currently trades at a P/E over 25x and a 5-year average of 21.6x. As the economy awaits the FED's decision on the next rate hike and surging oil prices continue, I believe AZO's price will continue to trend higher due to so much uncertainty.
Additionally, the stock was recently boosted in Wells Fargo (WFC) signature portfolio, indicating it may continue to outperform. Investors looking to start a position should look to add on any signs of share price weakness in the near-term.
Risks & Balance Sheet
Although AZO is a staple in most communities and is highly resistant to economic downturns due to the business model, the auto retailer and distributor industry is very competitive because of peers like ORLY and Advance Auto Parts (AAP). While AZO is a fortified business, the company faces pressure over the next coming quarters due to competitor store sales. As consumer spending becomes tight, they will most likely look for the best deals and prices if we do go into a recession.
Another risk that can affect the business is the cooler winter months. As management stated in Q4 earnings, the cooler and wetter weather across the country negatively impacted sales, and this could continue as the warmer months are coming to a close. With the current state of the economy, probably one of investors' biggest question is, "How is the company's balance sheet?" This is completely understandable as companies with high debt loads could potentially face long-term risks as interest rates remain higher for longer.
But looking at AZO's balance sheet I don't see this as a problem for the auto retailer as their debt is well-covered by operating cash flow. In the last year their debt load did increase to $7.7 billion, up from $6.1 billion a year earlier. This was obviously due to the current environment and the higher cost of borrowing. Management is planning for interest in the $88 million range in Q1 '24, up from $57.7 in Q1 of this year. But despite all of this, leverage ratios remain below historic norms and is expected to return to the 2.5x range by FY24. The company had $277 million cash on hand at the end of Q4.
Final thoughts
AutoZone, Inc. is a great compounder who has rewarded its shareholders with aggressive buybacks over the years. But as the company continues this, a stock split could be something management considers in the not-so-distant future. If so, this could ultimately lead to the company declaring a dividend which will most likely attract more investors.
Will this happen? I'm not saying it will, but a stock with impressive growth and continued expansion, it may not be a bad idea. AutoZone has a resilient business model and has continued to outperform the market in price and total return over the last decade. And I expect them to continue growing, more specifically in the international space, while simultaneously outperforming the market.