American Airlines: Monster Holiday Travel
Summary
Thanksgiving holiday travel expected to have record passengers, but airline stocks like American Airlines are trading near Covid lows.
American Airlines plunged due to higher fuel costs, yet fuel prices have plunged in the last month.
The stock trades at only 4x normalized EPS targets back above $3+ per share.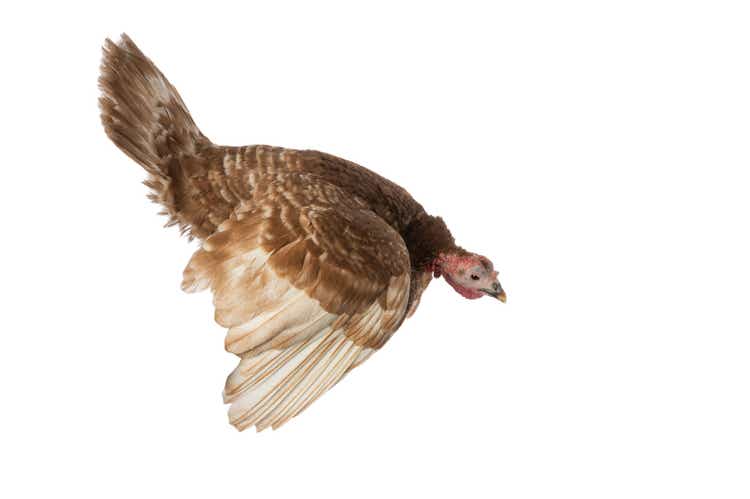 The holiday travel period is set to report record passengers on domestic airlines, yet stocks like American Airlines Group (NASDAQ:AAL) are trading near Covid lows. The airlines have run into some temporary headwinds with fuel and capacity not aligned with the shifting travel dynamics preferring international destinations in 2023. My investment thesis remains ultra Bullish on the stock with a rebound to normalized traffic patterns favoring the more domestic focused American Airlines along with fuel costs falling, though the airlines would've absorbed the costs into the fare structure.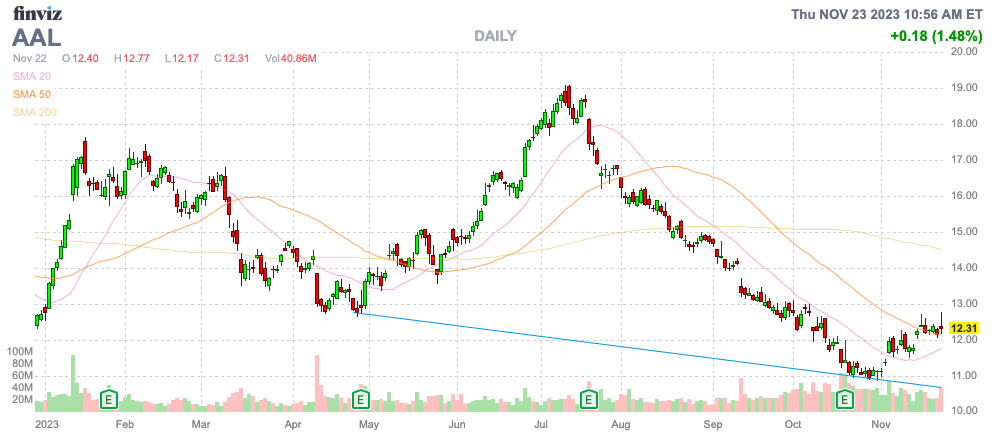 Big Thanksgiving
While the airline stocks are in the dumps, airline passengers this Thanksgiving holiday season are setting records. TSA forecasts an all-time record 30 million passengers during the holiday period from November 17 to November 27 with an average of 2.7 million each day.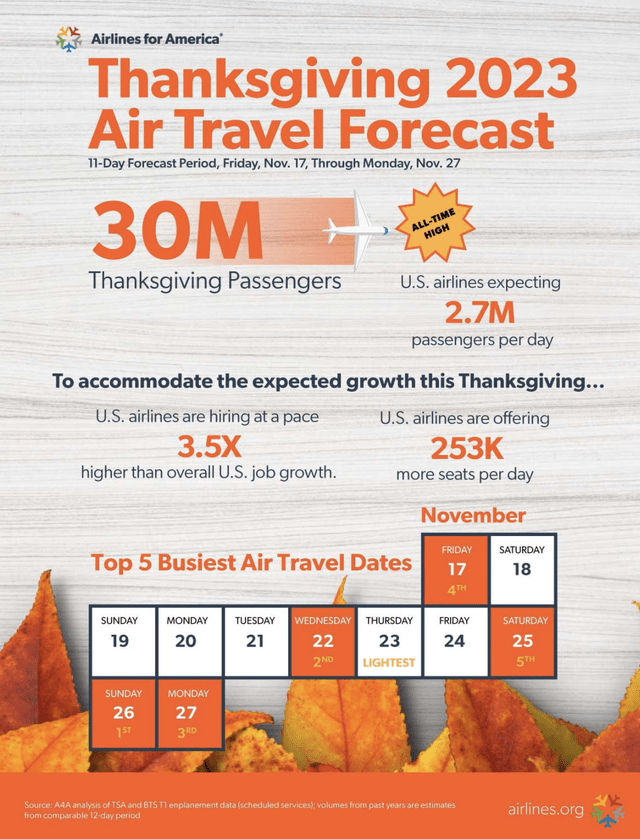 So far, traffic is up about 8% from 2019 levels without even counting the busiest return days in the weekend following Thanksgiving. TSA traffic already topped 2.7 million passengers on the Wednesday prior and the forecast is for a massive 3.2 million passengers to attempt returning home on Sunday following Thanksgiving.
The problem for airlines isn't traffic, but the disconnect between capacity additions, fuel costs and fares. The airline industry is much better at adjusting fares to match fuel costs, but a quick jump like during late Summer will lead to costs above those of fares already issued.
The good news is that fuel costs have plummeted along with oil price in the last month. Remember though, airlines survived record fuel prices last year to still record large profits in the 2H of the year.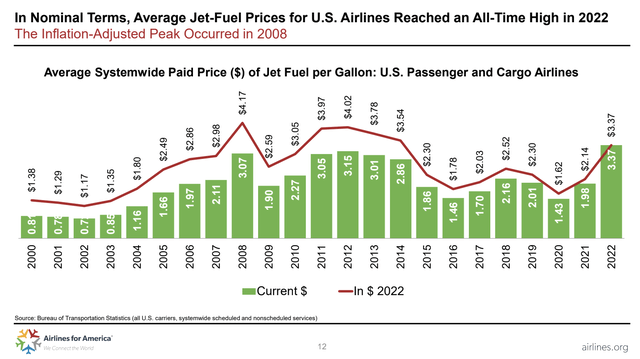 Fuel prices aren't a long-term issue to airlines anymore, but dramatic shifts in fuel prices are a short-term problem. WTI jumped from a low of $68/bbl in late July to nearly $95/bbl in late September. The price has since dipped back to $76 now and airlines should see a huge lift, but so far all of the news feed was from September and October when the discussion was focused on $80/bbl and $90/bbl oil.
For American Airlines specifically, the airline forecast Q3'23 fuel cost of ~$2.60 per gallon and ended up reporting a price of $2.91. The airline guided to Q4'23 fuel costs of $3.06 per gallon for a sequential jump of $0.15.

Based on the consumption of 1,050 million gallons, American Airlines has a $105 million impact from each $0.10 shift in fuel costs. The current jet fuel price is down to only $2.70 per gallon.
At a similar cost for the whole quarter, American Airlines would see a fuel cost reduction of $368 million. Based on the share count, the company would see a $0.50 per share earnings boost from these fuel cost savings alone.
Headed Back Up
About a month ago, American Airlines guided to a breakeven quarter for Q4. Now, the consensus estimates have the airline earning just $0.04 while the plunging fuel prices would support a much higher profit for the quarter.
Analysts have cratered 2024 expectations though the lower fuel prices and the industry's ability to adjust fares would support far higher earnings. In fact, the next few months should benefit from a push for higher fares over the last few months while fuel prices have collapsed.
The consensus EPS estimates have fallen to $2.22 in 2023 followed by a slight increase in 2024 to $2.35. The lower fuel prices has a huge impact on the EPS estimates American Airlines had maintained in the $3+ range when reporting Q2 earnings at the end of July.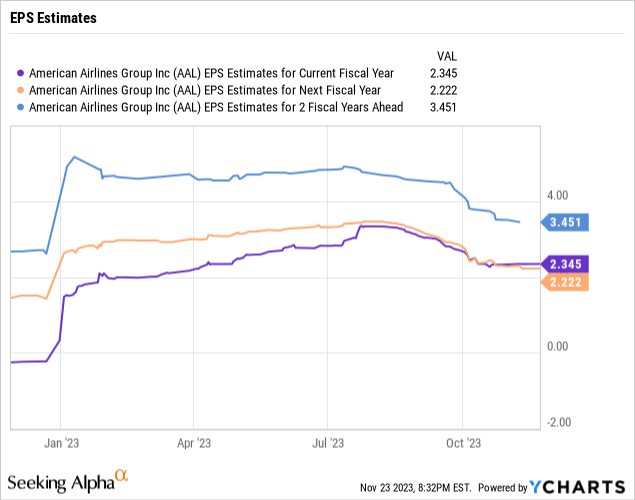 The industry definitely needs to look at right sizing some of the domestic capacity growth in the last year with the shift to international destinations. Outside of that issue, American Airlines and the industry will better mirror fares with fuel prices, even recently slumping prices.
All the airline has to do is repay debt in order to boost income due to the high level of interest expense currently running above $1.5 billion annually. American Airlines has already reduced net debt down to $23 billion, nearly eliminating all of the debt risk accumulated during Covid shutdowns.
Ironically though, the stock is trading at only $12. American Airlines has produced $4 billion of free cash flow YTD, repaid a bunch of debt and watched fuel prices collapse, yet the stock still trades at the Covid lows.
Takeaway
The key investor takeaway is that air traffic is booming. Investors don't appear to fully understand the impact of relatively high fuel prices historically and most importantly the huge surge in a few month period. The stock remains cheap at $12 when American Airlines should return to a $3+ EPS target.